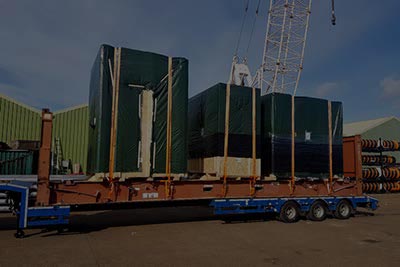 IFS was recently approached to transport a new factory milk filler station to Tianjin Airport, in China. The cargo was manufactured at multiple sites across Europe and needed to be amalgamated to arrive into China before Chinese New Year 2020. The closest port to Tianjin is Xingang Port, so appropriate shipping lines were selected with services that fit the tight delivery schedule. The brief specified that some parts of the machine were 'out of gauge' (the highest being over 4m) so a combination of standard containers, open tops and flatracks were required. The larger pieces were manufactured in the UK and were collected and taken to our specialist loading facility where they were secured for marine transport and sheeted, to safeguard them from adverse weather.
Simultaneously, all in gauge cargo was collected from manufacturing sites in UK, Spain and Germany and loaded into FCL containers, before it was taken to appropriate European ports.
It was critical for all cargo to arrive into China prior to the national Chinese New Year celebrations. All cargo set sail from different European ports on route to Xingang, China.
Once the shipment arrived into Xingang, China all cargo was delivered from Xingang port to Tianjin Airport and unloaded prior to the Chinese close-down for their New Year celebrations.