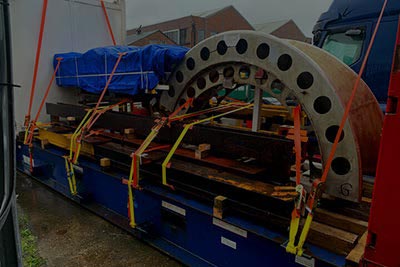 IFS were called upon to carry out a large oversized project movement from the UK to Canary Islands.
There was a strict deadline for cargo to arrive at destination, we therefore had a very short time-frame in order to arrange. Total shipment comprised of 19 packages of Geological-survey-equipment, the largest item measured 4.5metres wide & high.
We had to arrange permits in advance and escorts vehicles to accompany the oversized load on the UK roads. Upon collection there was an increase to the number of pieces including a late addition of hazardous cargo which we were able to accept & arrange to all fit/add the ADR whilst avoiding any delay.
The options for the cargo to load to the flat racks were also limited as the depots could not physically accept the cargo in due to the main pieces width, we identified a workable option to load within the Port Area to overcome this restriction
Delivery into the Port was achieved with the correct planning & coordination with the port police and our experienced partners/suppliers to overcome the issue of local roadworks/access restrictions due to the cargo width.
We arranged for the Flat Rack loadings to be overseen by a Maritime Surveyor with the safe loadings confirmed & all completed in a timely manner.
Once loaded the required Port Police Escorts were arranged & the loaded deliveries were booked with the port to get the Flat Racks delivered in to the export terminal in time for the vessel cut-off.
The items were shipped from the Port of Tilbury, UK to the Port of Las Palmas, Gran Canaria.